Häftig kritik mot FN-resolution 2414 om Västsahara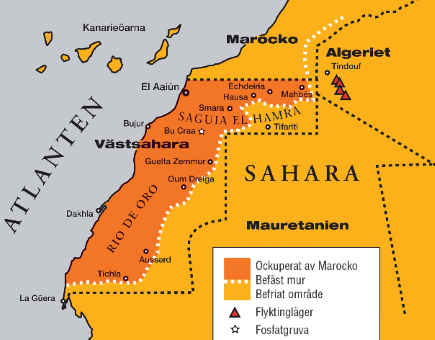 FN:s Säkerhetsråd antog 27/4 resolutionen 2414 om Västsahara men den stöds inte av Kina, Ryssland och Etiopien, som anser den vara obalanserad åt ena parten och därför la ned sina röster.
Sverige har på UD:s hemsida publicerat en lång förklaring till varför Sverige stöder resolutionen.
Minursos mandat förlängs med sex månader i stället för ett år som brukligt.
I ett pressmeddelande skriver FN bland annat att säkerhetsrådet uppmanar till förhandlingar mellan parterna. Man varnar samtidigt för byggnadsaktiviteter öster om muren. Polisario Front uppmanas dessutom att lämna området vid Guerguerat i södra Västsahara.
Något MR-mandat finns inte heller denna gång med i resolutionen. Minurso är den enda fredsbevarande FN-styrka som saknar mandat att övervaka och rapportera om brott mot de mänskliga rättigheterna.
Den slutliga resolutionen som lagts fram av USA och Frankrike fick dras tillbaka flera gånger innan resolutionen till slut antogs under fredagen men med tre nedlagda röster varav alltså två är permanenta medlemmar i säkerhetsrådet.
Polisario skriver i ett pressmeddelande att omvärlden måste reagera mot resolutionen som bland annat inte nämner Marockos långvariga vägran att acceptera förutsättningslösa direkta förhandlingar eller Marockos försök att förvilla bort det geografiska läget för Bir Lehlu, som enligt militäravtal inte ligger i buffertzonen eller "restricted area" och där för övrigt Minurso har en "team site".
Se Polisarios pressmeddelande nedan:
FOLLOWING MINURSO PEACEKEEPING MANDATE RENEWAL, POLISARIO URGES IMMEDIATE LAUNCH OF DIRECT NEGOTIATING PROCESS
FOR IMMEDIATE RELEASE
[NEW YORK – 27 April, 2018]
Today the UN Security Council voted to extend the mandate of the UN Mission for the Referendum in Western Sahara (MINURSO) for a period of six months.
The Frente POLISARIO takes note of this development and in particular the short renewal period which reflects the need for an urgent resumption of the UN political process. The POLISARIO reiterates its commitment to enter into a time-bound process of direct negotiations with Morocco to finally allow for the exercise by our People of our inalienable right to self-determination and independence in accordance with the United Nations doctrine on Decolonization.
The Frente POLISARIO notes that through this resolution, the Security Council is insisting on the resumption of the negotiations without any precondition and in good faith. It is a clear and strong message to Morocco which has always subjected any engagement in the negotiations to preconditions, and has always put obstacles to alter any progress toward a political solution that guarantees our right to self-determination, as it was underlined three times in the current resolution.
We hope that the six-month mandate renewal will be used as a lever to ensure a swift return to the negotiating table; and we wish to reiterate, on behalf of the people of Western Sahara, that we will accept nothing less than the full respect of our legal right to self-determination and independence.
We remain hopeful about the efforts of Personal Envoy for Western Sahara Mr. Horst Köhler, but the Security Council must stand up to Moroccan bullying through firm action to make real progress and put an end to Moroccan permanent blackmail.
However, the POLISARIO regrets that this year's Security Council resolution on Western Sahara has given undue credence to Morocco's fabrications, lthough it was crystal clear to all that such baseless allegations are an obvious and predictable tactic that is designed to distract attention away from the political process.
It should also be recalled that, as reaffirmed by the spokesman of the Secretary-General on 19 April 2018, the locality of Bir Lehlou – where the UN has a team site – is not located in the buffer strip nor in the restricted areas as defined by the ceasefire and the Military Agreement No. 1, signed by both parties under UN auspices.
Frente POLISARIO administrative functions and military forces have always been present in Bir Lehlou and other parts of the liberated area of our country. This presence is not in contravention of the terms of the ceasefire or the Military Agreement No. 1.
Furthermore, it is the Frente POLISARIO institutions that ensure the security and water supply of the MINURSO team sites in these areas.
We urge the Security Council and the International Community to compel Morocco to stop its violations of the United Nations resolutions and the agreement we both signed with the UN and to refrain from its actions aimed at changing the status quo in the occupied territories west of the berm of shame. The Security Council needs to address the Moroccan threat to resort to force communicated to it officially. This is indeed the destabilizing action that the whole international community needs to stand against.
MINURSO Coordinator Mhamed Khadad
Frente POLISARIO
For more information contact:
Mr. Mhamed Khadad, Frente POLISARIO MINURSO Coordinator
Advisor to the President of the Saharawi Arab Democratic Republic (SADR)
Tel: +646 744 8437
Email: info@westernsahara-un.com